What is a laser?
A laser is a wavelength source of high-energy light that is accurately focused and transmitted onto a very small area of the skin. The light travels in one direction, heating the skin selectively based on the wavelength and energy settings of the laser. In some cases, the skin is vaporized with an ablative laser when wrinkles are more severe. Current lasers such as the Fraxel re:store Dual and the Fraxel re:pair are precise and selective, allowing treatment of wrinkles, pores, brown spots, acne scars, and sun-damaged skin.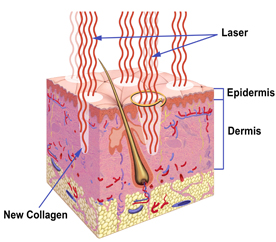 Ablative vs. Nonablative
There are two kinds of lasers: non-ablative and ablative. Non-ablative lasers, such as the Fraxel re:store Dual, work beneath the surface skin layer, using two wavelengths to deliver energy in "fractional" zones of heating with every microscopic treatment zone surrounded by unaffected skin. By maintaining the integrity of the surface layer of the skin, the downtime is kept to a minimum with this type of laser. Ablative lasers, such as the Fraxel re:pair, provide deeper dermal remodeling of more severely sun damaged skin by heating and vaporizing the treatment zones using fractional carbon dioxide (CO2). Both approaches stimulate collagen growth, improve skin tone, and decrease fine lines and skin discoloration. During your consultation, Dr. Forley will discuss which laser will work best for you.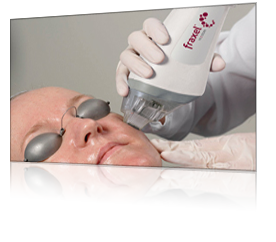 Treatment and Healing Expectations
Topical numbing cream is applied for 1 hour prior to the treatment to decrease skin sensitivity. During the laser procedure, cold air is used on the skin, making any discomfort manageable but pain medication can also be used if desired. A sedation or "twilight" type of anesthesia may be indicated when an ablative laser is used. A full face treatment takes about 30 minutes.
Fraxel re:store Dual laser treatment produces a variable amount of redness and swelling over the first 3-4 days and dryness and flaking will occur throughout the first week. You are able to return to routine activities within 3-4 days but must use sun protection. Benefits are most evident with three to five treatments, spaced every 4-6 weeks.
Fraxel re:pair laser has a more involved recovery period and requires the area of treatment to be kept moist with gauze soaks and ointment for 5-7 days. The skin will be red and may be covered with a fine crust. Pinpoint areas of bleeding may also occur in the first 48 hours. The treated sites must be protected from sunlight after the procedure. In some cases, a pink surface color may remain for several weeks. You are able to return to routine activities and use make-up after 7-10 days although concealer may be necessary. Often, one treatment is all that is required to achieve the desired result.
Areas of Treatment
The Fraxel re:store Dual laser can treat wrinkles, acne scars, surgical scars, age spots/sunspots, melasma and actinic keratoses. The Fraxel re:pair laser is used for advanced sun damage and wrinkles, irregular texture, and age spots/sunspots. Laser treatment is not a substitute for a facelift nor can the procedure eliminate excessive skin or jowls. However, when combined with surgery, laser resurfacing can enhance the outcome of a facelift by improving skin quality.
Tags: anti-aging, Facial Aging, fraxel, Laser, Non-Surgical
Written by Dr. Forley on January 14, 2012