A scar is  the normal outcome of healing after the skin has been injured. The final appearance of the scar is dependent on the remodeling of collagen fibers that are deposited to enable the wound to heal. The scar will frequently be red and slightly raised during the initial healing phase. When an excessively thick or hypertrophic scar forms, it is raised above the skin surface but stays within the immediate area of the original wound. Keloids are raised and dense scars that spread beyond the borders of the original wound and frequently are resistant to therapeutic intervention. Several techniques are used  by Dr. Forley to improve the appearance of scars.
Topical Gel


Silicone gel that is applied topically to scars has been shown to prevent scar thickening and lessen discoloration by creating a favorable environment for scar maturation. The silicone gel is paired with a sunscreen in bioCorneum®+ to protect the scar from the damaging effects of UV exposure.
Silicone Sheeting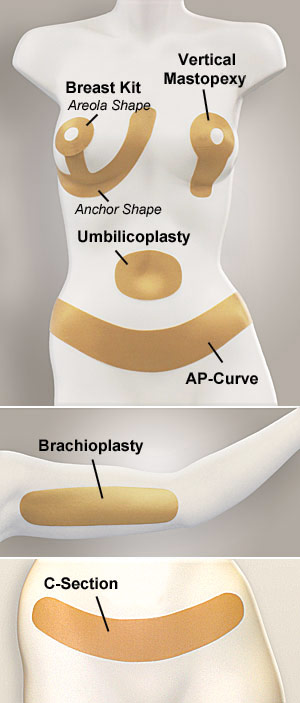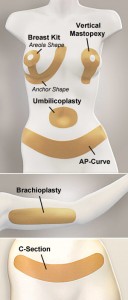 Silicone sheeting has been shown to help reduce scar size, thickness, height, and color. It can be effective in both new and old scars, post-surgery scars, keloids, and hypertrophic scars. By helping to blend the scar with surrounding healthy skin, silicone sheeting such as Oleeva Scar Shapes® help make the scar far less noticeable. The sheets are made of a highly flexible material that can be easily cut to fit any scar size and can be used on almost any location of the body. A primary benefit of silicone sheeting is the direct pressure produced by the sheeting on the scar itself thereby helping to prevent or reduce scar thickening.
Steroid Injections
Steroid injections inhibit fibroblast growth, reducing the amount of collagen deposited into the scar. Side effects include lightening of the skin color, thinning of the skin, and blood vessel overgrowth causing skin discoloration. The use of conservative amounts of steroids is considered a safe and effective treatment modality for scar reduction.
Laser Treatment
Progress in laser technology and refinements in technique have made laser therapy a preferred treatment choice for scars.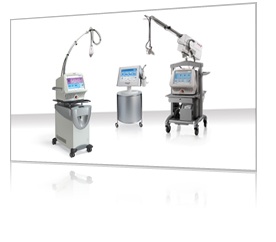 Non-ablative lasers, such as the Fraxel DUAL 1550/1927 laser, work beneath the surface layer of the skin to help improve the thickened collagen layer of the scar. Two wavelengths are used to deliver energy in "fractional" zones of heating with every microscopic treatment zone surrounded by unaffected skin to enable more rapid healing and less downtime.
Scar Revision
Surgery is available as an option to improve a scar that has not responded sufficiently to other techniques. The scar is excised, usually under local anesthesia, and the wound is precisely repaired in layers.  The key to reducing recurrence of the scar is to reduce tension on the wound closure. The healing process is monitored closely, with use of the measures described above, to enhance the likelihood of a favorable outcome.
Tags: bioCorneum, fraxel, hypertrophic scars, keloids, Plastic Surgery, scars, silicone gel, silicone sheeting
Written by Dr. Forley on January 28, 2013