Dr. Forley was listed in the 2013 Super Doctors® annual guide to the top 5% of New York City physicians, as published in this Sunday's edition of The New York Times Magazine by Key Professional Media, Inc. The selection process includes a survey of doctors, independent evaluation of candidates by the research staff, a peer review of candidates by practice area, and a good-standing and disciplinary check. As a part of this evaluation, physicians are asked to consider the following question: "If you needed medical care in one of the following practice areas, which doctor would you choose?"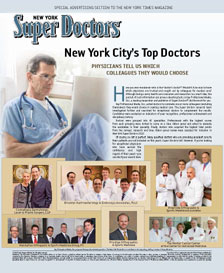 10 indicators of peer recognition and professional achievement are used in the evaluation process:
Years of experience
Hospital appointments
Fellowships
Professional activities
Leadership positions
Academic achievements/positions
Board certifications
Publications, lectures & presentations
Honors and awards
Other outstanding achievement
Honorees are also found online at superdoctors.com, where selected doctors can be searched by name, practice area and location.
Tags: Super Doctors, Top Doctors
Written by Dr. Forley on May 20, 2013