Men have become an increasingly common presence in the plastic surgeon's office. Competition in the workplace and the prevailing youth culture have combined to create a desire for self-improvement that may not have seemed as important 15 or 20 years ago. The minimal downtime procedures performed today make their acceptance amongst busy professional men and women very high. The most frequent non-surgical procedures men are having done in our office are BOTOX® Cosmetic, injectable fillers, and Ultherapy®. Surgery often is performed to treat baggy eyelids, excess neck, hip, and tummy fat, and gynecomastia or male breast enlargement.
NON-SURGICAL
BOTOX® Cosmetic
Botox® Cosmetic provides a non-surgical way of reversing the crow's feet, laugh lines, and frown lines produced by the underlying contraction of facial muscles. It works by enabling a smooth skin appearance as a result of blocking the muscle contraction and overlying skin wrinkling produced by nerve impulses. The untreated muscles will allow for normal facial expression to remain unaffected. The treatment lasts from 4-6 months and is performed 2-3 times per year to maintain youthful appearing skin.
Injectable Fillers
Injectable dermal fillers composed of hyaluronic acid, such as Juvederm™Ultra and Ultra Plus, Restylane®, and Perlane® are indicated in the treatment of folds, wrinkles, or hollowing that results from facial aging. "By adding volume, wrinkles and folds appear smoother and facial contours appear more youthful" says Dr. Forely. The duration of effect is up to 12 months.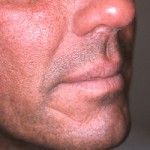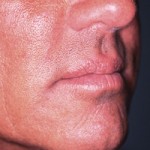 Another filler we offer is Sculptra® Aesthetic. This product is composed of poly-L-lactic acid (PLLA), an injectable biocompatible material that stimulates the production of the skin's own collagen. The natural appearing restoration of youthful facial contours is made possible by the skin thickening that results from the gradual deposition of the new collagen. Generally a series of 2-3 treatments at 6-week intervals are necessary to achieve the desired effect. The youthful appearance that results from the treatment can last up to 3 years at which time maintenance treatments can be utilized.
Ultherapy®
Ultherapy® is a new type of non-surgical treatment that uses ultrasound energy to safely lift and tone the skin without any downtime. The ultrasound image on the viewing screen allows Dr. Forley to see precisely the level at which the ultrasound energy is being delivered.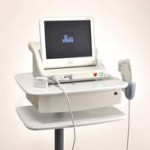 The deep layers of the face and neck that have lost their elasticity and firmness over time are targeted by the heat-producing sound waves. Although one treatment is frequently all that is needed, more significant facial and neck sagging may require an additional treatment after 3-6 months. The duration of results can vary but you can generally expect up to 2 years of benefits from Ultherapy®.
SURGICAL
Blepharoplasty (Eyelid Surgery)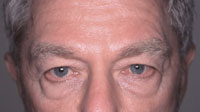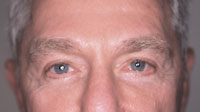 Loose, sagging, bulging tissues of the eyelids can make the eye appear smaller and lead to others asking if you are tired or stressed. Blepharoplasty or eyelid surgery removes excess loose skin and fatty tissue that produces sagging and heaviness of the upper or lower eyelids. The eye appears larger, less tired, more open, and brighter.
Liposuction (Neck, Hips, & Abdomen)
Liposuction is a contouring procedure that removes bulges to achieve a more aesthetic blending of body outlines. The type of physical appearance men desire can be counteracted by age, heredity,lack of exercise, and poor eating habits. Long lasting results are achieved when surgery is combined with a program of fitness and nutrition. Liposuction removes excess localized fat deposits through tiny incisions using small tubes or cannulas. The overlying skin contracts to fit the new profile. Areas such as the neck, hips and abdomen are the most often targeted areas for men.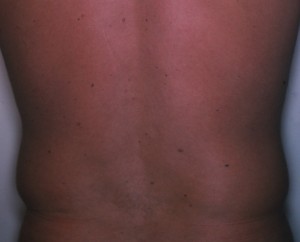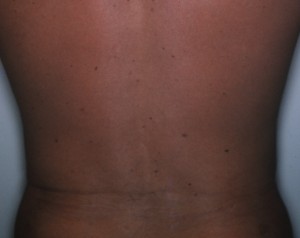 Gynecomastia (Chest)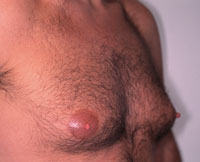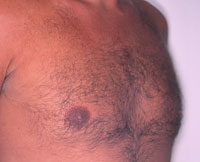 Excessively large male breasts, known as gynecomastia, can produce a feeling of self-consciousness about body image that can inhibit lifestyle choices and daily activities. In most cases, the glandular and fatty tissue enlargement of the male breasts begins during puberty. It is usually a benign condition, but can be associated with hormonal abnormalities that may need additional evaluation. Gynecomastia procedures improve the large breast size by reducing the volume and prominence of the breast fatty tissue using liposuction and directly removing excess glandular tissue via an incision at the lower edge of the areola. Skin excision is rarely necessary as it will generally retract during the healing phase. In addition to the improved appearance, patients also find they are comfortable participating in social or sports activities that they were either unable or unwilling to do before surgery. During your consultation Dr. Forley will discuss and recommend those options that he feels will give you the best result.
Tags: Aging, Blepharoplasty, Body Contouring, Botox Cosmetic, Gynecomastia, injectable fillers, juvederm, liposuction, Non-Surgical, perlane, Plastic Surgery, Restylane, sculptra aesthetic, Ulthera, Ultherapy
Written by Dr. Forley on December 30, 2011